What we wanted to find out
A group of Lincolnshire-based health and care professionals working with patients with life-limiting conditions got in touch. They had previously explored the use of a symbol for patients with palliative care needs so that the patients could receive appropriate and urgent support. A 'responsive needs tool' is already in use across the county, and the group were keen to explore how to open up an entitlement system to patients, carers and communities.
We held a workshop to design a brief with Lincolnshire Clinical Commissioning Group (CCG) and the St Barnabas hospices to develop an entitlement system for those receiving palliative care. Attending were a GP, community development manager, palliative care nurse and the Director of Service Innovation and Integration from St Barnabas, as well as the Lincolnshire CCG Director of Strategy and Doteveryone's Director of Strategy and Research.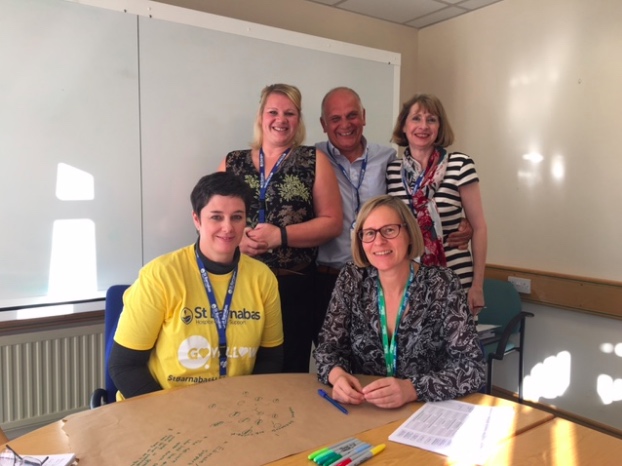 The participants set out some expectations for the entitlements system at the outset:
In the health and social care economy, a collaborative approach to anything is the way forward and bringing communities in as equal partners is the way to go.
This is something that is about the community that could potentially flow into health and social care and it is not about health and social care dictating what it is. The time people spend in services is actually a very small part of their day. That amount is probably going to get smaller not larger.
---
What are the particular challenges for users?
We talked about the key issues to address before setting up a community-based entitlements system.
Identification of people - how to find the people who need support and make sure they have access to services and the things they might need.
Communication - how to talk about living with a life-limiting condition, especially as people are coming towards the end of life. How can people communicate about their needs? How can difficult conversations happen?
Social isolation - how can people feel less isolated when they are living with a life-limiting condition?
We discussed some of our hopes for an entitlement system that addresses these challenges:
I see it as a visual symbol of recognition so that you have a thread going through your whole experience and journey everyday.
You can show [a badge] to the taxi driver and he can walk you to your door instead of dropping you at the gate.
It's also useful as a symbol to be visible and worn in an acute setting to aid communication and to help with transitions between settings from hospital to home for example.
The group saw that the entitlement system fits into their strategy for care, which includes public and patient empowerment, communities being ready to help, supporting self care, wider communication with communities and early identification of people who would benefit from palliative care.
The system also fits with the national ambition document for end-of-life care and Macmillan's nine outcomes of things that matter most to people living with cancer, for example that they feel part of a community, know what they can do to help themselves, and can be supported by the people around them.
---
Design principles for an entitlement system
We thought about what elements should be in place to make community-based entitlements successful:
1. It should be in the power of the person to make a choice about whether they want to access the entitlement system and what they want to use it for.
We shouldn't design something that feels parental, but something that is available to people should they want to access it. We used to know one another in our communities but now we don't. This symbol is a way of showing that you need help or consideration.
2. It should be easy to understand and pick up. It should be like Dementia Friends, where you want a lot of people to have a little knowledge, rather than experts.
3. It should be adaptable so it supports the different ways people think about their identities. People don't necessarily want to label themselves.
4. It should be separate from needs assessments as that will medicalise the concept.
5. It should start from where people are and what they already do.
What would it facilitate?
We talked about practical outcomes of the entitlement system, for example it should enable people in the last phases of life to live as-normal-as-possible lives, continuing to be part of their communities. People should be met with understanding and given support where necessary. They should be able to live as independently as possible, accessing local facilities they're used to and where they're known. The system should also increase public awareness of the needs of people living with life-limiting conditions.
Prototyping the system
We discussed how to start building it, by defining the problem and the user needs, mapping the journeys, networks and assets, and engaging the key people and partners needed to build a coalition and provide resources. We discussed the need to run events, raise awareness and let communities define their own entitlement systems, and create feedback loops so people see the impact and effectiveness of the work.
Some questions to explore:
What is enough of an incentive for people to use and access the entitlement system?
Who has the "entitlement"? Is is the person with the life-limiting condition or their network of support?
How does it work if you start with an existing community instead of trying to use it as a way to build a community?
What is the best structure to start with? A parish council? A town council?
The communities with the most need don't have those relationships in place so we shouldn't just do the easy thing and start with where community already exists.
We thought about where in the community the system would be used to help with practical stuff and removing barriers for people, for things like putting bins out, accelerated triage at GP surgeries, support at banks, the pharmacy, shops and post offices.
But also doing things that make you feel nice and help you to thrive, like going to social clubs, restaurants, the hairdresser or health treatments.
We explored how information about the scheme could be shared, for instance by the GP, at the first palliative nurse visit and through membership to other organisations such as the Co-op.
Next steps
We agreed that this would be worth developing into a pilot with a set of community partners. If you're interested in finding out more, please get in touch with us by email at [email protected].