A community-based entitlement system could make the end of life more liveable for older people. We are looking for national partners and communities to pilot new ways of delivering connection and care.
We have explored what can be done to make day-to-day existence better for those in the last stages of life. We think individuals, businesses and organisations in a community can offer social and practical benefits to people at the end of their lives, and we imagined how this system could work, testing our initial concept with prototypes.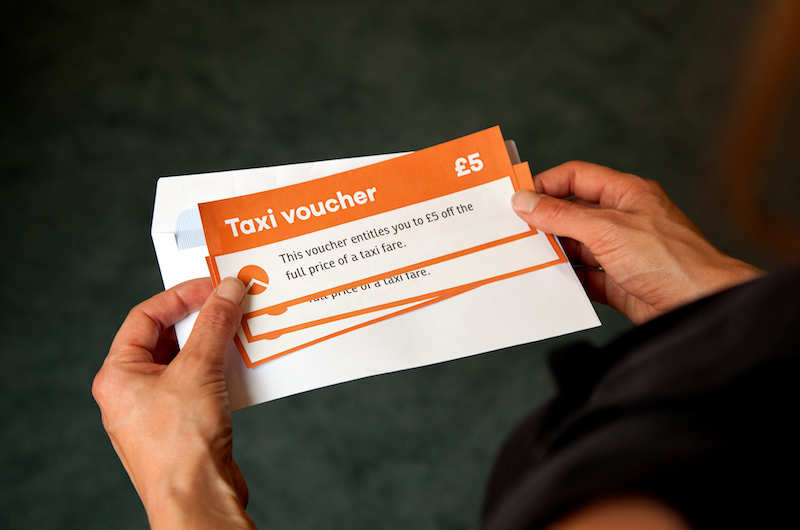 Why?
Internet technologies provide ease, convenience and connection to many people in the UK. This should include older people at the end of life who experience many practical, day-to-day problems that could be overcome with useful products and services.
People receiving palliative care are entitled to benefits and support, but these vary in type and availability, and it can be hard for patients to find out what they are entitled to.
We wanted to explore how entitlements could be provided within communities. We have known for a long time that "it takes a village to raise a child". It also takes a community to help someone live well towards the end of life.
Because people can be socially isolated towards the end of life, we think a community-based entitlements system could be a tangible way to connect communities so that care, health and wellbeing become "social". That can help change the way we talk about end-of-life care and prepare for death, and the way we interact with people towards the end of their lives.
---
What we learnt
People are exhausted and it is hard to stay motivated.
I don't have a lot of stamina. I can't go for walks any more as much as I would like to. I have to take my time going downstairs and especially going upstairs.
I have to live differently and adjust things all the time.
It is important to keep active and retain an identity beyond being unwell.
People's sense of self suffers when they are only perceived as patients.
Sometimes it feels like people talk to my illness, not to me. I need to reclaim being a person again.
You get self worth by doing stuff.
It can be harder for those with life-limiting conditions to participate in their community.
Life-limiting conditions can increase your sense of isolation. You become more and more cut off from the world and your world shrinks. It's a problem carers also want to overcome.
In my own professional experience, I have met many people who have become increasingly socially isolated as a result of their illness. They might be able to leave their home, or they may feel that they've got problems which are unacceptable socially, and so they become increasingly isolated.
People want to focus more on life now than death in the months ahead.
Care workers said that the focus on end of life planning is often not the focus for people.
There are things about their current life they want resolved more than thinking about the future. The family will get it right for them, it will be alright in terms of end of life planning, but it is the NOW, how the every day can be better. Things about today matter more.
---
What we have done
Research
Full report

Research findings
When people are in the last year of life they are entitled to benefits and support. These can include automatically being given a double appointment at the GP or equipment from an occupational therapist being fast-tracked.
We spoke to patients and practitioners to hear what they think is helpful. We looked at what entitlements are available, how people find out about them and what barriers exist to people accessing them. And we looked at other organisations' work on social movements in health, place-based health and helping communities to support end-of-life care.
Read more about our research findings on entitlement.
---
Service design
There is a growing recognition that ensuring people live well is not the sole responsibility of the medical profession. Many in the NHS and other organisations involved in clinical and social care want to move towards a system of place-based healthcare, where communities are integral to the way people are supported. This can make care more economically sustainable and improve social ties.
We started to think about practical ways to bring about these changes. We considered Transport for London's 'Baby on board' badges, used by pregnant women to get a seat on public transport. The badge helps to remove awkward conversations with strangers and lets others know when there is someone with a greater need for a seat than them. And we looked at attempts to alert people to those living with cancer or with particular needs. We wondered if it would be possible to create something like this for people in the last stages of life.
---
Prototyping
We imagined some particular scenarios where a person could receive special privileges and access. We thought about this in an analogue way, using visible badges or other artefacts that signal a membership to an entitlement system.
We imagined the first visit from a palliative care nurse or the GP's first diagnosis of a life-limiting condition. This would be an opportunity to introduce the entitlement system.
Patients would receive information about the system, a card or badge to identify them as a member of the system and also "tokens" that they could choose to use or not.
We shouldn't design something that feels parental, but something that is available to people should they want to access it. We used to know one another in our communities but now we don't. This symbol is a way of showing that you need help or consideration.
We thought about what kind of wording and symbols would be used and whether the token should be visible or concealed.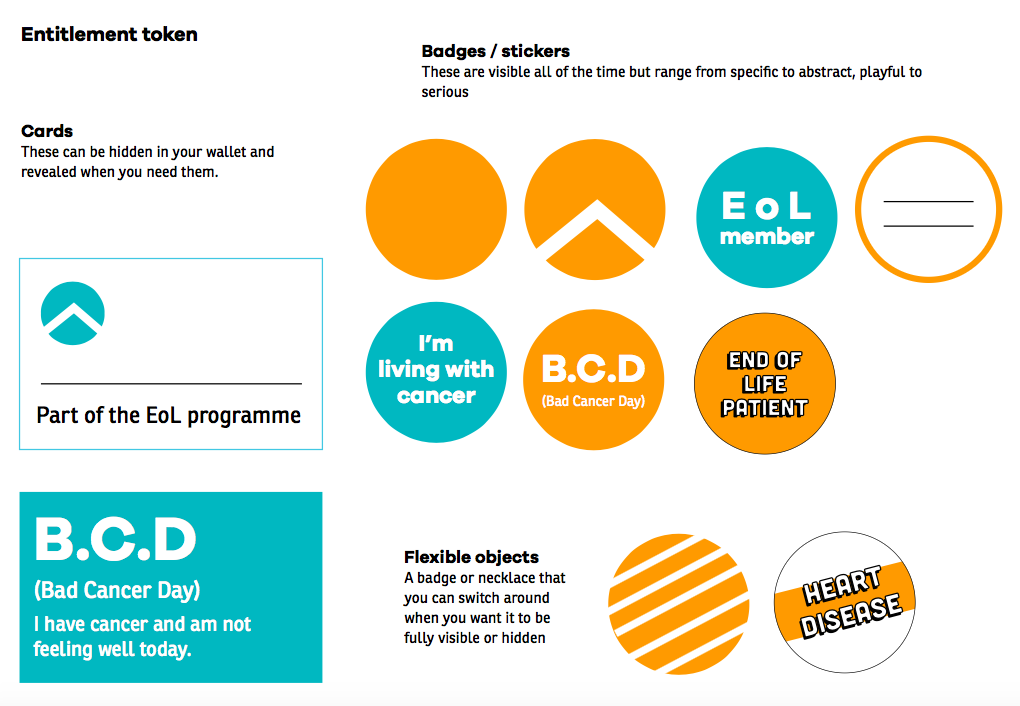 Full report

Lincolnshire workshop
And we imagined situations where the badge would be helpful and explored what this might look like.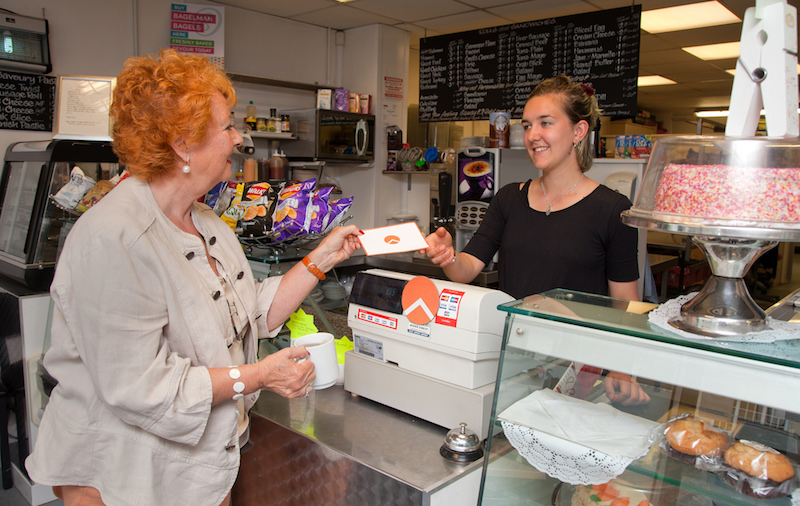 We also considered who from the community would contribute to the system and considered how it would work in the context of a market town, involving cafes, galleries, churches, libraries, transport providers, post offices and leisure centres. Some of these ideas were suggested by health and care professionals who responded to a survey.
We have discussed how this might work with practitioners in Lincolnshire.
They helped identify a set of design principles, including making the system easy to understand, ensuring it is adaptable to different situations and allows patients to opt in as they wish.
In the future digital technologies could help. A digital signal could be used to identify someone as needing extra speed, care, help or patience. The signal is useful as it can be targeted at specific people rather than everyone. For example, it can alert the pharmacy that someone is on their way so that their prescription is ready and they don't have to wait. Or it can notify a bus driver that someone getting on may need help.
A digital signal can also be created to interact with the physical environment. It could make doors open on approach, traffic lights stay on longer, give priority to a lift or open transport barriers.
Technology could also improve life for those who cannot leave home. For example, a Chrome extension on a person's web browser could provide access to special internet content and exclusive deals - such as online books, films on Netflix, shopping discounts or podcasts.
The "token" could be digital itself and more like a YubiKey that collects and stores information as well as sending digital signals about your needs. This could link with our collaborative health information system work.
---