Many MPs use content management systems provided to them by their party. Some MPs choose their own path, but this can remove them from the support infrastructure often provided by their party. It is a tough exchange between the freedom to customise and a built-in support system.
We found that the Labour Party, Liberal Democrats and SNP all have NationBuilder licenses and the Conservatives use Bluetree. Other content management systems that have been used include WordPress, Squarespace, and Blogger.
A good MP website should:
explain the role of an MP and how they may be of help
point constituents to the right help
build trust
be designed to display responsively on a mobile device
---
Explain the role of an MP and how they may be of help
Based on our constituency survey, 23% of respondents wanted to know more about how and why their MP votes in the House of Commons, as well as their values, beliefs and how this guided their voting. 28.5% of people wanted their MP to have a better understanding of local issues and the opinions of their constituents. The website should highlight what the MP has been doing and explain how they can help.
Point constituents to the right help
MPs have told us that there are, on the whole, two types of constituents contacting their office. One type of constituent is in regular contact about a range of issues as they arise, the other gets in touch only once or twice when in dire need of last-resort help. Constituents want to quickly access the right help for them, and are more concerned with a working and simple website, than with a flashy design.
When the MP is not the right person to help a constituent, it is useful to direct users to other services. My Society offers a suite of free tools that can be linked to from MP websites. These include:
FixMyStreet, which uses mapping software so constituents can send street-fault reports to councils.
MapIt, which draws boundaries of government authority areas to match constituents with the right services.
TheyWorkForYou, which provides access to Parliamentary reports (such as those from the Hansard Society and IPSA)
As an example, Stella Creasy MP, uses some of these tools on the Help and advice section of her website to point constituents to different sources of help.
We also explored getting people to the right help with a prototype.
Use your website as a platform to build trust
To the public, Parliament can be viewed as a confusing and not accessible. MPs should use their websites to build trust by openly conveying information and communicating updates to their constituents.
MPs who are doing this well: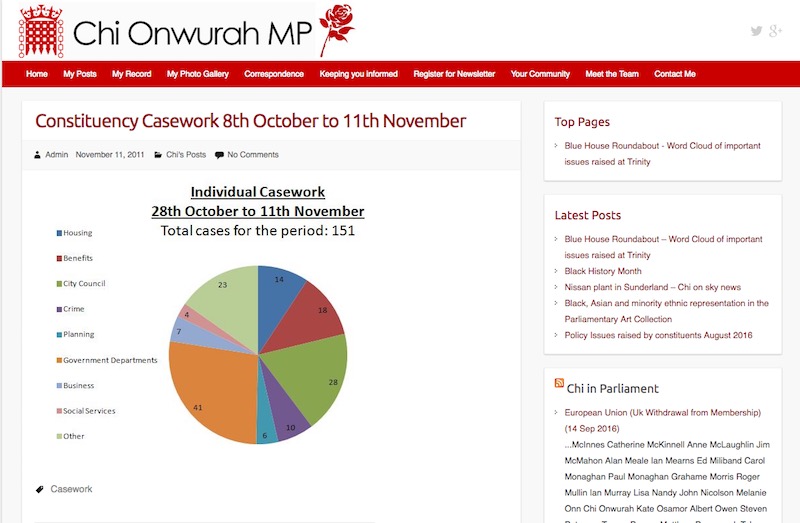 Chi Onwurah MP publishes a simple pie chart of "open casework", based on Individual issues and Policy issues.
Chuka Umunna MP links a portion of his website entitled Pay and allowances to his IPSA publishings.
Liam Fox MP uses a map to plot out and explain the different activities he's been up to in his constituency and across the country.
Mobile responsiveness
93% of UK adults use mobile phones and increasingly browsing websites takes place on mobile phones. All websites should be designed to be easily viewable across any screen, particularly mobile interfaces.