We found opportunities to use digital technologies to improve the way MPs engage with their constituents. We'd like our findings to reach more MPs and others who represent us to improve democracy for everyone.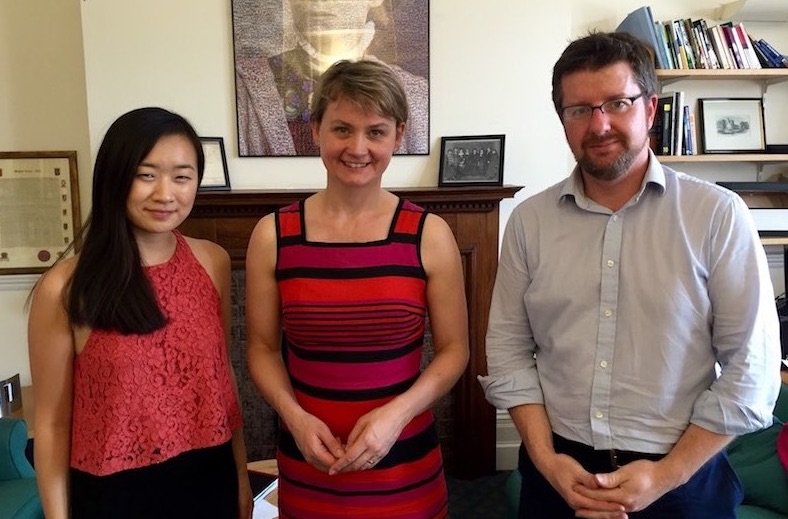 Over two months our digital mentors helped change the way our four MPs and their teams work, including the way they engage with the public and manage their work with constituents.
And we think there is potential for MPs to apply their digital understanding to other areas of their work too.
Now we want to reach more MPs, and in the future, digital mentors could help more people working across our democratic institutions.
If we can improve digital skills, confidence and understanding more widely, we think this could make our democracy work better for citizens and their representatives.
---
What we learned
At the end of our project, the teams we worked with reported more confidence in their digital skills.
The majority of staff also thought digital technologies could save them time. The changes they reported are included in our research findings.
There are many benefits to having a digital mentor in the office. Hand on heart, I would say don't be afraid of it. Actually welcome it. It's very handy having somebody in the office who's got a better idea of technology. It was great to see products that are out there, and have the reassuring guidance of somebody that knew about them, rather than us taking a punt at something.
Our mentors helped MPs communicate better with their constituents. They also helped constituents understand better what MPs can do for them.
The mentors saw how teams were able to use available technologies to overcome the challenges of working on multiple projects across different teams with limited resources and time.
They saw how the skills and security systems they need to make these important changes.
During the two months our mentors were in the MPs' offices they focused on day-to-day constituency work, but there are other areas of an MP's role which would benefit from improved digital understanding.
We started to explore some of these areas - such as use of data and digital for campaigning - and looked at how we can scale the experience with other MPs and democratic representatives.
---
Understanding data
Resource

Making good use of available data
MPs need to be able to understand data to know what impact policies will have on their constituents.
For example, knowing about changes in town populations is important for assessing the impact of changes to local services or who will be affected by a factory closure.
Our MPs told us they wanted the tools to understand these trends so they can represent their constituents effectively.
MPs already have access to data through the House of Commons Library, external sources such as data.parliament.uk and the Key Facts About Your Constituency document issued to all MPs by Lloyds Banking Group.
But, there is a lack of intelligence in combining these different data sources.
Researchers and data suppliers can use tools to visualise data to make it more easily understood and we created initial guidance on how MPs can make good use of available data.
Using digital for better campaigning
Resource

Campaigning digitally
Campaigning on local and national issues is an important part of what MPs do. For many of them, it is what got them into politics in the first place.
Digital has the potential to change the way we campaign. Technology can provide the insight needed to create highly targeted campaigns and engage the public more effectively.
During the project we explored some different ways of applying digital approaches to campaigning.
For example, we helped Yvette Cooper MP and the all-party Reclaim the Internet campaign broadcast their conference using Facebook Live.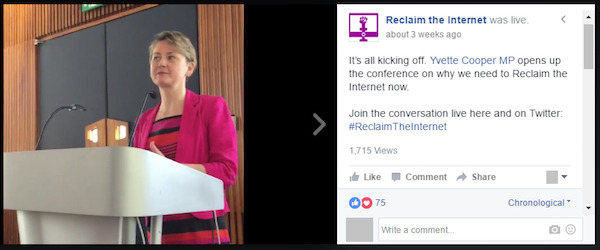 Different campaigns resonate with different audiences. We have captured the lessons from this work and created guidance.
Spreading the benefits
Resource

Improving digital skills more widely
Our mentors worked with a range of groups that cross paths with MPs to explore how digital skills can support others.
They helped local councillors with digital campaigning, an all-party Parliamentary group to share information and collaborate better, and a constituency office team start setting up a coding class for constituents.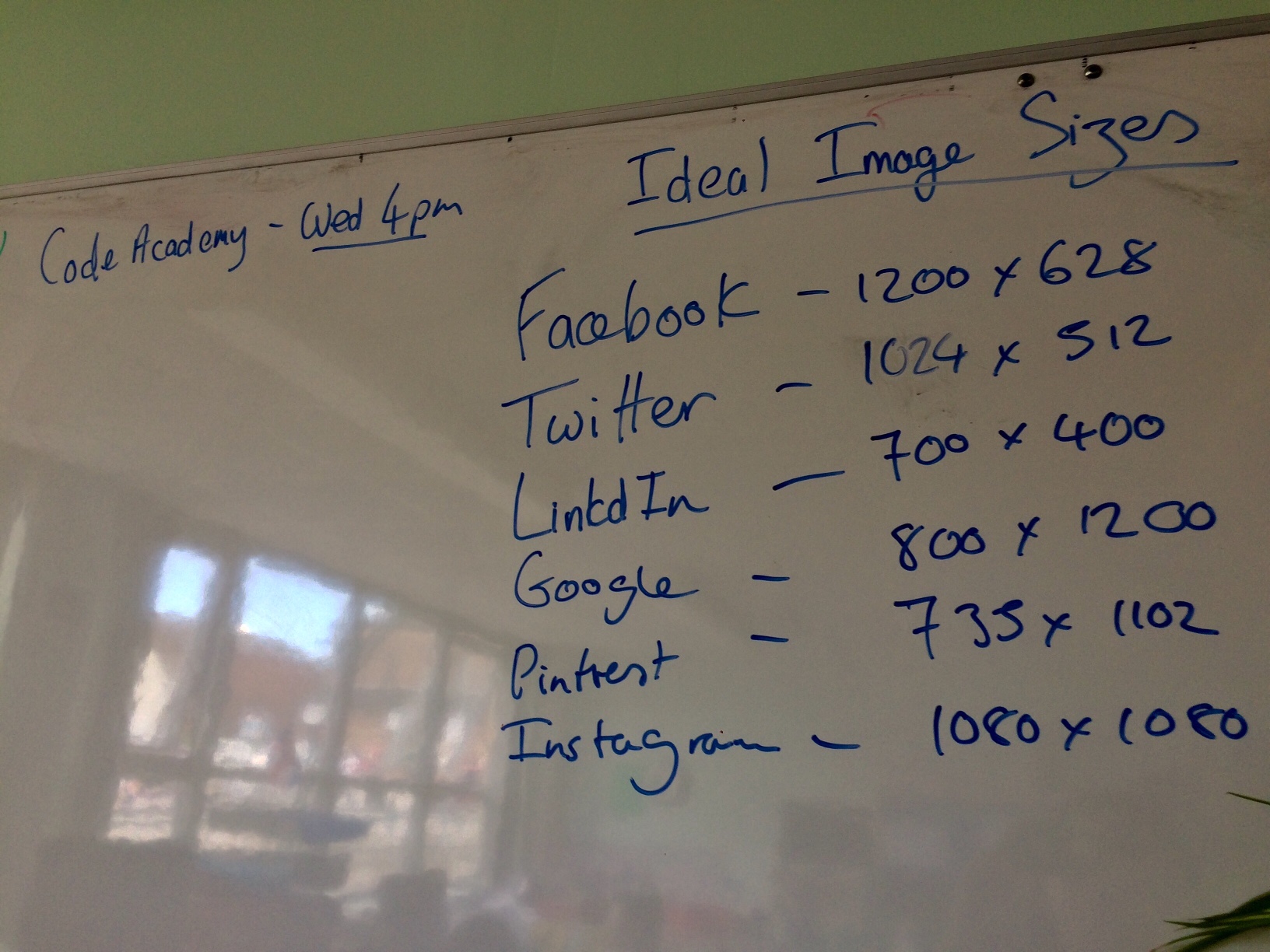 Scaling up
Resource

Finding digital mentors
The work Doteveryone has done offers enormous value and benefit in understanding how all MPs and Parliament need to change to make us all efficient, secure and responsive to those that we represent.
We want more MPs to get the skills they need to overcome the Digital Deficit. If they don't take advantage of digital technologies, they are not representing the electorate as well as they could.
We have shared our findings with the Parliamentary Digital Service, the House of Commons Board and the House of Commons Administration Committee about the project and want to find the best way to scale up digital mentoring for all MPs.
To make mentoring work, MPs will need a tailored approach to meet differing needs, based on an evaluation of their team's existing digital skills. There will need to be sufficient time to build trust and change habits, and a regional approach with training taken to staff in constituency offices. We've outlined how we found our mentors, as the right people will be needed.
Each MP's office needs a Digital Lead to champion new ways of working across constituency and Parliamentary offices.
And it is important to create online and offline communities to help share good practice and guidance among people facing similar issues.
Our MPs have suggested that other MPs should self-select for mentoring, making it available to all and used by those with a desire to embrace digital for change.
In the future, we think the mentoring model can work for other groups of leaders. These include working peers, police and crime commissioners, GPs, NHS commissioners, NHS Trust CEOs, local authority CEOs, councillors and leaders within devolved administrations. We are keen to hear from other groups who are interested.
In the meantime there are practical steps we believe all MPs can take immediately to improve digital skills. MPs should:
assign a staff member to act a Digital Lead to champion new ways of working across constituency and Parliamentary offices, supported by guidance communities of practice,
use advice in this report to start using digital tools already available,
use our digital skills criteria when advertising new staff posts, and
work with the Parliamentary Digital Service to check the security of their systems.