Live broadcasting tools are used to create livestreams, which work best for events that appeal to a wide audience.
They are ideal for Q&As, town hall style meetings, campaigns and announcements. Feedback is instant - constituents and followers can send messages and hear the response.
Although the broadcast may only get only a small number of views at the time, the link can be shared and watched after the initial broadcast.
We worked with our MPs to do live broadcasting for the first time. See Norman Lamb MP's live broadcast with Periscope and Yvette Cooper's live broadcast with Facebook Live.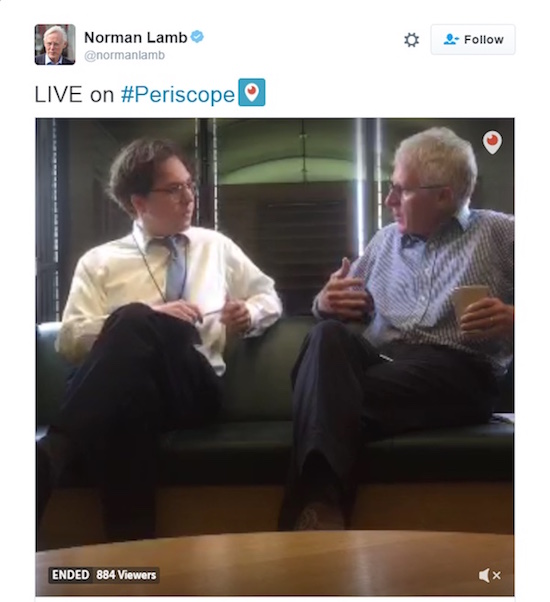 ---
Recommendations
Start your video by explaining what you'll be streaming. If you have a sudden leap in the number of viewers, it's worth repeating a short introduction.
Ask people to like and share your video.
During the broadcast, you can see the number of viewers and their comments. Respond to questions or comments by addressing the audience directly or ask a colleague signed into the same account to type replies. It's best to respond verbally but an extra pair of hands is useful when questions are coming in thick and fast.
Write a rough script but remember to be spontaneous - people are watching live video broadcasts because it's novel and exciting and they want to hear the interactions, not something pre-scripted.
Finish by thanking everyone. Ask them to follow you if they don't already and, on Facebook, ask them to "Turn on notifications" to be alerted when you're next live.
Tips
Have the right device. Use a mobile device to film, ideally a recent smartphone or tablet with a wifi or 4G connection. Remember to clean your lens and turn on Airplane mode to stop accidental mid-broadcast calls. External batteries, a power cable or a full battery are essential - longer broadcasts are likely to drain your battery.
Make sure there is a good internet connection. Don't try to do a live broadcast from a train, a lift or anywhere in a basement if you feel there's a chance the internet will cut out. Check your internet connection by running an internet speed test - you need at least 2.5mbps and ideally 4mbps to be able to broadcast live.
Prepare for your format. It's fine to broadcast from an event holding the device in your hand, but if you are doing something like an interview then you might want to buy some extra equipment - ideally a microphone and a tripod. Think about the lighting and camera angles, use a wired mic and choose a good view.
Rotate. Set your device up for landscape filming so that you can reuse the video more easily.
Plan your broadcast time. Aim for between 15 and 30 minutes, as longer broadcasts accumulate more viewers but don't go longer than 90 minutes.
Learn from the rest. Mark Zuckerberg, the White House and Facebook's Live map all have examples of other live broadcasts worth checking out.
Use a clear title. The description for your broadcast will attract people and draw them in.
Promote and reuse your videos. Add a featured video to Facebook and YouTube, and share the links on your social channels.