We built partnerships with specialist organisations who already work with particular groups such as the homeless, older people, the unemployed and social housing residents. Together we developed projects to explore in-depth how best to help people who might be particularly difficult to engage to gain basic digital skills.
It is essential to understand the different reasons why an individual may lack basic digital skills and then tailor support to work specifically for them. The support must be seen to be relevant to be effective.
Overall we found that targeted community interventions worked particularly well in an informal environment. Working with local partners within the community at as local a level as possible was vital. But it proved difficult to recruit participants on some of the projects.
We would recommend spending more time exploring in greater depth the issues and environment of the boroughs to understand what needs existed and where groups were already being well served.
Examples of Deep Dives
Duka PC (Croydon)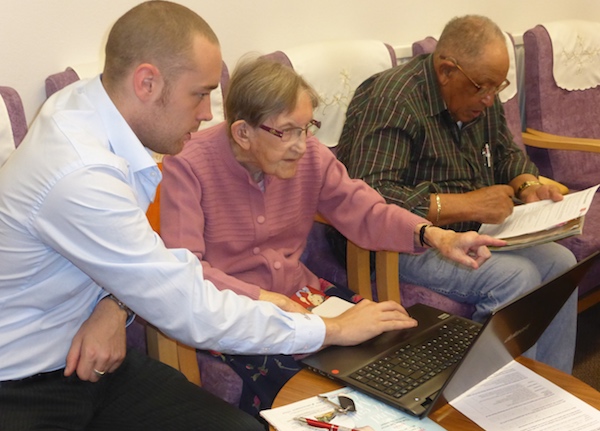 We worked with 17 older people living in sheltered housing who found using digital technology a daunting prospect. We offered them a free device from the Danish supplier, Duka PC, which is specifically designed for older people who lack basic digital skills. They were also given a free internet connection from Digital Inc. for six months.
The people who took part lacked basic digital skills for different reasons. These ranged from feeling embarrassed by their lack of knowledge and not wanting to trouble family and friends for help, to feeling concerned about potential scams and the costs of purchasing equipment.
The group was supported by the Duka PC contact centre team. Digital champion volunteers from the Metropolitan Police Cadets also provided home and community support to help the participants to build their basic digital skills. The Cadets provided one-to-one help with using email, online searches, shopping and social media.
In addition to increasing the group's basic digital skills, we wanted to track potential social benefits such as a reduction in loneliness and improvements in health.
So far most of the group have been able to make reasonably rapid progress in improving their basic digital skills. A few have struggled with recalling all the things they've learnt and some have had internet connectivity issues, which are currently being resolved.
Although there was some initial trepidation about taking part, the learners' confidence and enthusiasm has grown as they've mastered new skills and started to see the relevance and benefits of being online.
Digital Connect (Croydon and Lewisham)
We worked with Lloyds Bank, Accenture and Seetec to deliver the Digital Connect pilot. 43% of small businesses and charities in the UK lack basic digital skills and around over 800,000 young people are not currently in employment, education or training. The project was designed to do two things. Firstly to help small local businesses to understand how having basic digital skills could help them to develop their business. Secondly, to help young people in Croydon and Lewisham get into work, apprenticeships or further education.
We held one-day workshops for local small businesses and charities to show the benefits that technology might bring them. At the same time we gave a group of 14 young people currently not in education, employment or training a course in business-related digital skills to help in their three-week work experience placement.
Feedback from the workshops showed that the businesses that took part had increased confidence in their digital skills, and the businesses whose confidence had most improved were those who went on to host a young person on a work placement.
The young person helped us improve our social media communication by bringing new, creative ideas to the team.
So far, the majority of the young people who took part have moved into employment, education or further training following the project.
We had hoped for a higher take-up of this initiative. Despite the offer being widely publicised, we were a little disappointed in the participant numbers (48 businesses and 14 young people).
We explored the reasons for this. Businesses found it hard to find the time to attend the workshops, and not all of them understood how being more digitally skilled could develop their business in new ways. Equally, some home-based micro businesses could not accommodate a young person in their homes for safeguarding and health and safety reasons. This meant having to find a separate, neutral venue for meetings to take place.
The young people we worked with were also faced with a larger choice of local training schemes, which made it more difficult to recruit young people to our project.
Feedback from the businesses and young people who took part was very positive. Almost 80% of businesses and charities said they had the knowledge to make their business more digital, and that their increased knowledge and expectations of digital can increase their revenue.
90% of young people achieved an IT qualification and 70% progressed to a positive outcome (employment, apprenticeship or FE).
We recommend getting more detailed information about the level of demand for digital skills from local businesses to tailor support more directly according to their needs. It is also worth reviewing other skills programmes available to young people locally to identify the type of training most needed.
Croydon Homeless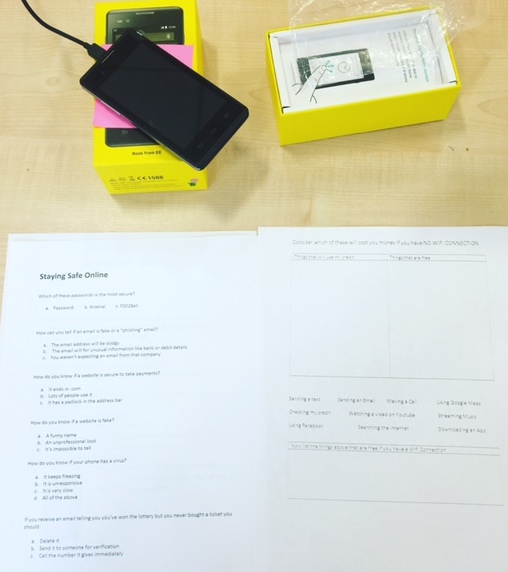 In partnership with Crisis, EE / BT and Croydon Council we set up this project to work with a group of 90 homeless people to help them use smartphones so that they could enter the digital world with greater confidence.
Crisis's members often have chaotic lives and we wanted to provide support to build digital skills, to help with confidence, reduce social isolation, and provide better access to work opportunities and hobbies.
We wanted to understand and remove the barriers to digital inclusion for the homeless, and provide an opportunity for them to use the skills they gained to help their peers by becoming digital champions.
Participants attended two three-hour training sessions over two successive days. They were then provided with a smartphone donated by EE with £50 of pay-as-you-go credit (released in £10 increments).
The project needed a significant investment of time to encourage Crisis members to take part. The group included sofa surfers, hostel dwellers, and women living in a domestic violence refuge.
We have had some amazing positive feedback from this group, including comments such as:
This will genuinely change my life for the better.
If you've got a smartphone, you're winning.
Now I can see why everyone is into these b****y phones so much.
The project is continuing and we will report on the findings in due course but there are already some ways we would improve this project in the future.
For some of the group who received training, basic literacy is a challenge and learning how to use a smartphone and keypad took time. For others who had used technology before, this wasn't an issue. In future, training should be provided in groups better matched to the speed at which participants learn.
We found that a few of the group downplayed their existing digital skills because they thought they would not be allowed to take part in the project and miss out on the benefits.
Crisis also found that the course has helped their care worker to engage with some of their members more effectively.
We are now in discussion with EE and Crisis on whether the project could be available more widely, for example across London or at a national level and what funding would be needed to do this.
Digital Money Works (Lewisham)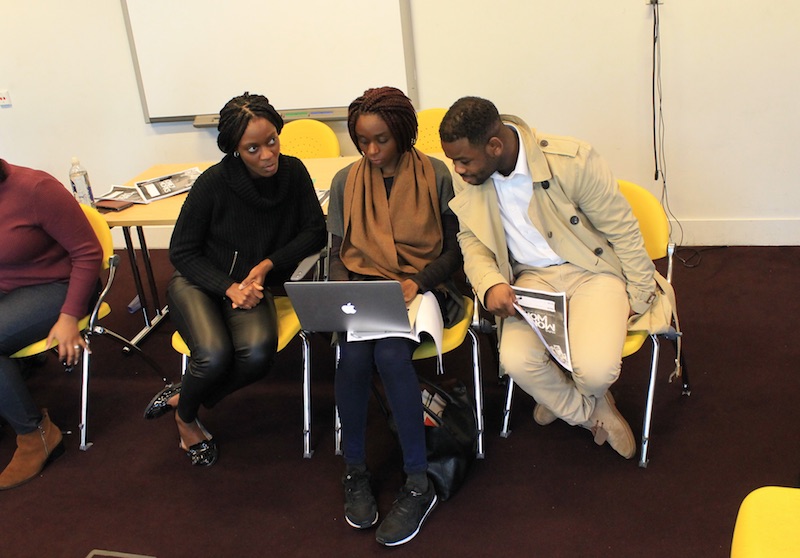 Young people are often seen as digital natives and most know how to use digital devices. However they often lack the skills to apply technology in ways that improve their lives.
With seed funding from Lloyds Bank, we worked with the financial education charity MyBnk to create Digital Money Works - a series of eight workshops designed to help vulnerable, at-risk young adults to gain skills to help them better manage their own finances.
MyBnk's expert trainers, who are used to demystifying personal finance for young people, explained terminology and developed the group's skills in budgeting and using tools such as comparison websites.
Those who took part in the workshops reported improvements in their ability to compare bank accounts, confidence in making online purchases and improvements in their ability to navigate a credit report.
MyBnk made the process easier to understand. It's always best to shop around before you make a choice... We had great support from the MyBnk trainers, and I never felt shy or nervous to ask a question. I am confident to walk into any bank on the high-street!
MyBnk worked with five host organisations to enable 72 young people to improve their digital financial skills. This included participants not in education, employment or training, and with special educational needs, as well as some single parents, care leavers, and ex-offenders. 58% of participants gained a Level 1 accreditation in Personal Money Management, and 96% said that the workshops had given them the confidence to set goals and identify steps to improve their financial situation (compared to 42% before participating).
Specific Place (Croydon)
The Specific Place project focused on around 70 social housing tenants in the Purley area of Croydon. They were selected as existing customers of one of our partners, E.ON, and because employment levels on the estate are low at 30-40%. Having basic digital skills can help improve access to work opportunities, and broaden the range of roles available to applicants.
The tenants were offered the chance to buy a tablet from Argos for £20 (instead of the usual retail price of £90), free training in basic digital skills at the Church Street store, a lower cost broadband deal (via TalkTalk) and access to a lower-cost energy deal from E.ON.
Take up numbers were very low. We made considerable efforts to promote the offer but were unable to sign up enough tenants to make the project viable.
We reviewed the project as a group and identified some reasons for this. Firstly, tenants needed to travel to central Croydon to get the tablet and participate in the training, which may have been too far to go for the perceived benefit. Secondly, there was a lack of understanding of what benefits basic digital skills could bring, and this meant there was a lack of motivation. Thirdly, there was suspicion amongst the tenants that there were hidden charges. "What's the catch?" was a common question.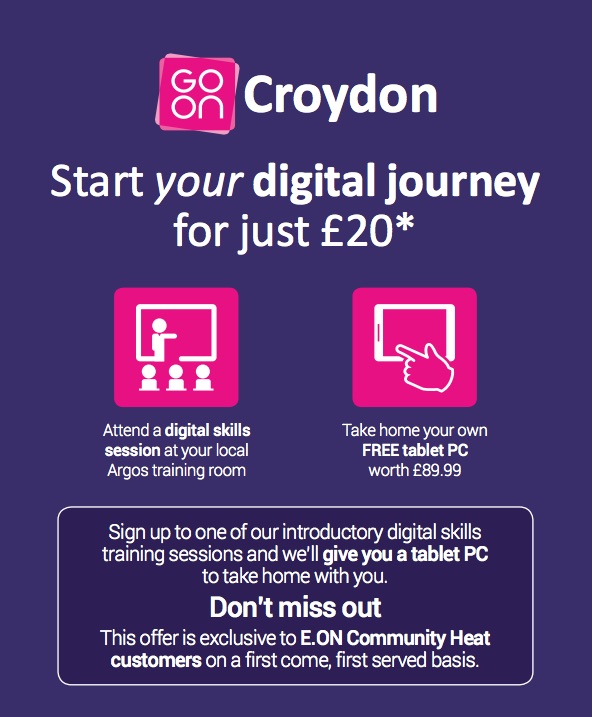 ---
We also supported two further projects focussed on basic digital skills in Croydon and Lewisham: