Why we tackled basic digital skills
Currently, almost 1 in 4 adults in the UK still can't use the internet effectively. These people are at significant risk of being left behind socially and economically as technology becomes ever more integral to daily life.
As Go ON UK, we defined what we mean by basic digital skills and created a framework that can be used to measure and develop them (now hosted by the Tech Partnership).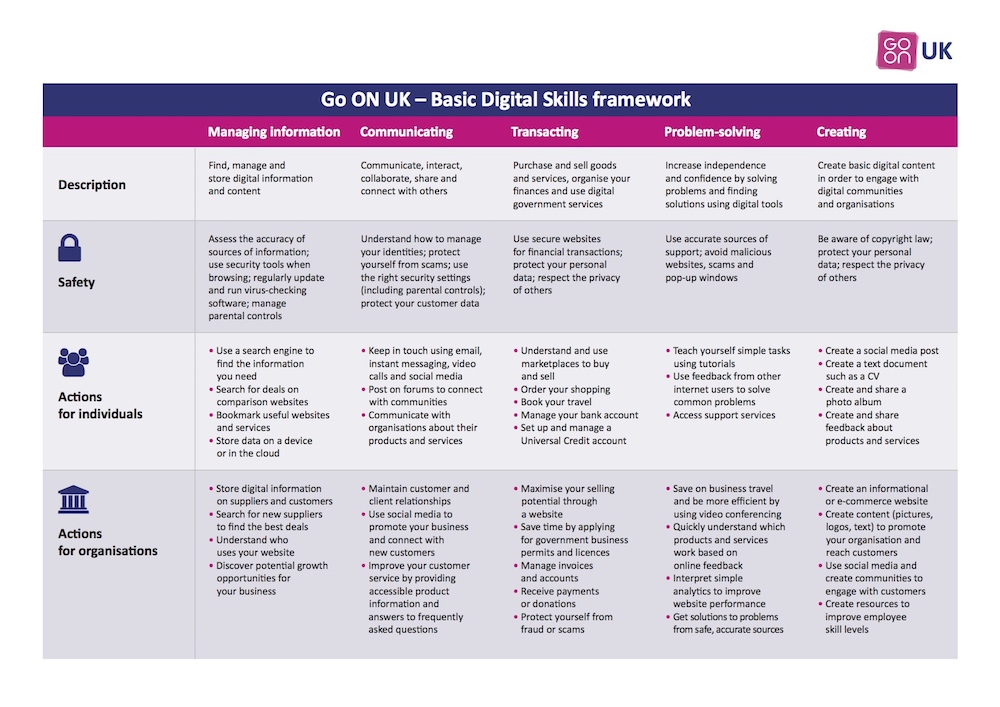 Some great work has already been done by a range of organisations to address this, but with 12 million adults in the UK - 23% of the adult population - still lacking basic digital skills, there's a lot more to do.
Many of these people are older, poorer and more disadvantaged than the rest of our society. Being offline and without basic digital skills costs people an average of £744 a year, and with more and more public services moving online, not having access to the internet or the skills to use it is a more significant problem today than ever before.
Levels of digital engagement vary across the country and from one community to another. We created a Digital Exclusion Heatmap to show the situation in every Local Authority across the UK. The darker the colour the higher the likelihood of exclusion.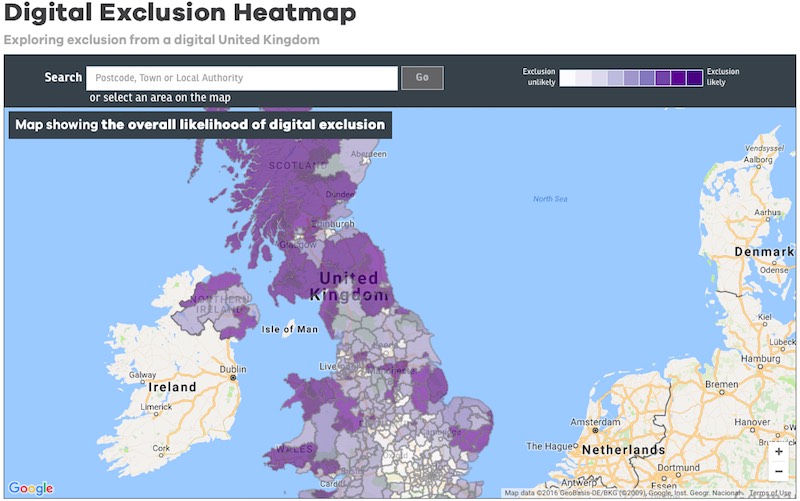 Why we did the work the way we did it
The heatmap shows that there's no single reason why people are offline. As a result there's no single way to help them online either.
To help boost basic digital skills we wanted to move beyond formal classroom teaching or the threat of putting essential services online to force people to use them. We wanted to find a range of effective approaches that would help people gain basic digital skills in their own communities for adoption across the UK.
We focused on two densely populated urban areas to show how working at a hyper-local level can target different groups who lack these important skills. We identified two London boroughs to work with, Croydon and Lewisham.
In common with many other parts of the UK, Croydon and Lewisham both have diverse populations and include communities with low education, poor employment rates, and significant elderly populations. In both boroughs 30% of residents lack basic digital skills (Gusto research, 2015).
Both Croydon and Lewisham Councils were keen to participate and had good links with local community groups. They appointed dedicated co-ordinators with in-depth local knowledge to manage the projects within the boroughs and liaise with residents and participating organisations.
We wanted to use existing community resources and local volunteers wherever possible to ensure the work became fully embedded in both boroughs. We had invaluable support from our Principal Partners like Lloyds Banking Group and BT / EE as well as a wide range of local groups and individuals.
Read more about Croydon and Lewisham and the work we did there.