Why Croydon?
As a council we are committed to ensuring that no one in our borough gets left behind, so it's really important to us that everyone gets the opportunity to access all the great things that are available in the online world. Whether it's finding ways to save money, keeping in touch with family and friends, exploring hobbies and interests, or accessing our services, we are determined that residents and businesses in our borough have the chance to be included.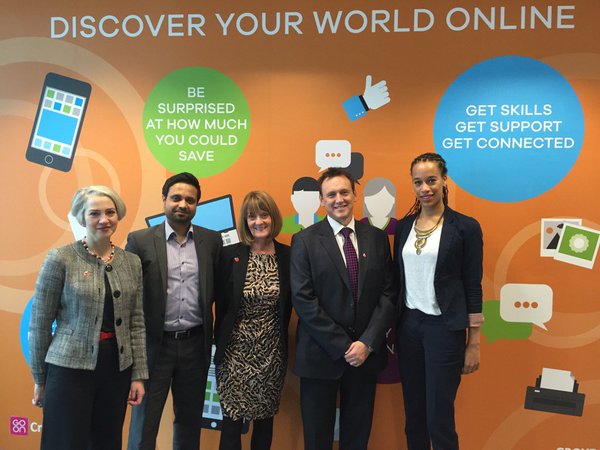 An estimated 85,000 people in Croydon lack basic digital skills - 30% of the population (Gusto research, 2015). We wanted to address the skills gap for these people, but also find and share the most effective ways to tackle basic digital skills in local communities.
It was important that we chose to run the pilots in locations with characteristics similar to other areas of the country so that it would be clear how our experiences could be applied elsewhere. Based on these criteria, and the enthusiasm of the Council to take part, we knew that Croydon would fit the bill.
The borough is highly diverse; 45% of the population is black, Asian and minority ethnic, and 23% of secondary school pupils have a first language other than English.
The borough has over 9,000 claimants for job seekers' allowance, the 8th highest in London, and 20% of children live in out-of-work families.
At the other end of the scale, Croydon also has its own Tech City and ambition to play an important role in the digital economy.
The Council has begun to put many of its services online and is keen for its residents to be able to use them.
What we did in Croydon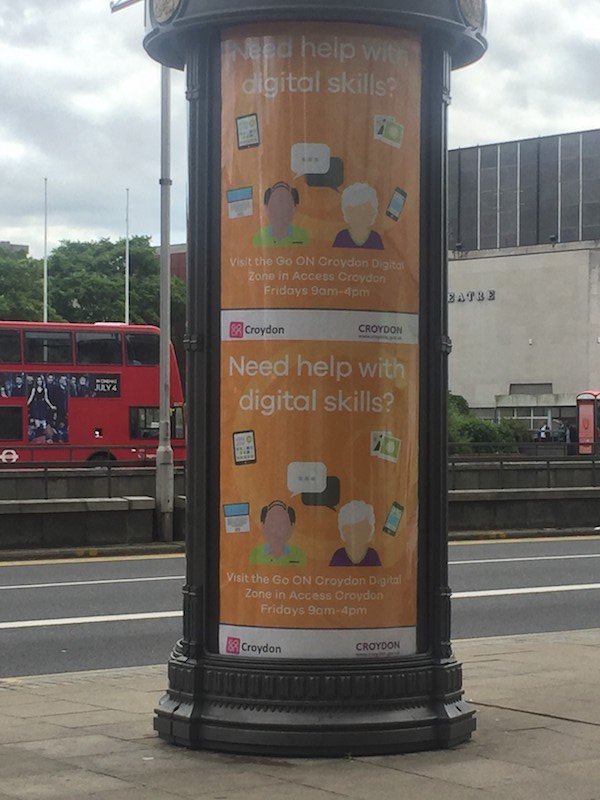 Between November 2015 and November 2016, Go ON Croydon established different projects to identify and test the approaches to learning basic digital skills that work best with those groups most likely to be digitally excluded.
We set up Digital Zones in the Croydon Access Centre, local Lloyds Bank branches and in the high street branches of other partner organisations. These zones provided a local, friendly destination for residents, charities and businesses wanting to improve their basic digital skills to get information and support. See where the Digital Zones are in Croydon.
We did in-depth work with specific groups in four Deep Dives - Duka PC, Digital Connect, Croydon Homeless and Specific Place. These activities focused on the elderly, young people not in education, employment or training, the homeless and residents of a social housing estate.
We also drew on the support of local community organisations, charities and small businesses who organised their own community engagement projects to boost basic digital skills. These ranged from Croydon Voluntary Action organising a Digital Zone and recruiting digital champion volunteers to St Philip's Church, Norbury, offering drop-in advice sessions to its own communities.
Go ON Croydon launch event
We kicked off the pilot with a launch event on 9 November 2015 compered by the entrepreneur Bianca Miller. The event was attended by the Leader of Croydon Council Councillor Tony Newman, Assistant Chief Executive of Croydon Council Graham Cadle and his team, Baroness Martha Lane Fox, and a range of partner organisations including Argos, Lloyds Bank, TalkTalk, the Post Office, Croydon Tech City and local community groups and businesses.
Go ON Croydon closure
Go ON Croydon ended in November 2016. We held a closing event on 1 December that was very well attended and a fitting celebration of the many successes the pilot has delivered.
Who was involved?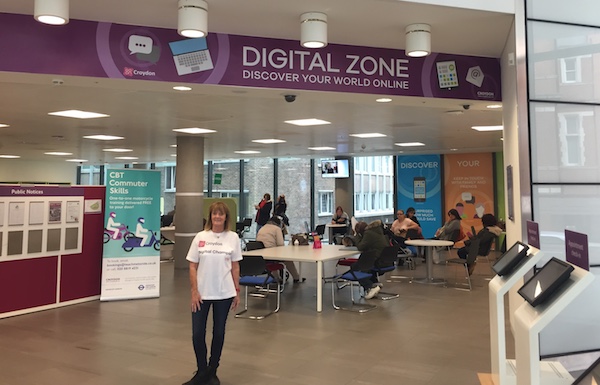 We worked closely with Croydon Council under the leadership of Graham Cadle, Assistant Chief Executive, and Anne Sturzaker, Go ON Croydon co-ordinator.
Over 350 volunteers from Croydon Council staff signed up to become digital champions, helping spread their knowledge to people without basic digital skills.
They were also supported by volunteers from our partners including Lloyds Bank, EE/BT, Argos, Job Centre Plus, Twitter, the Metropolitan Police, housing associations and many more, as well as charities including Crisis and Croydon Voluntary Action, and local community organisations.
In Croydon we delivered direct face-to-face basic digital skills support to more than 3,200 people across all projects. These projects are now self-sustaining and will continue helping more and more local residents.
What's next
Now that we've completed the pilot phase of these projects, Croydon Council and our partners will take responsibility for continuing the project and ensuring support for basic digital skills is fully embedded in the local community.